AZ East Valley Action Alliance's Candidate's Pro-Life Questionnaire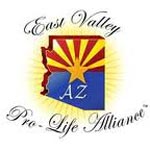 Any City, Arizona –
Submitting the AZ East Valley Action Alliance's Candidate's Pro-Life Questionnaire – our election campaign for the pro-life voter! Those candidates responding will be acknowledged via social media prior to both the Primary and General Election for the benefit of the AZ pro-life voter. If interested please complete the form @ your earliest convenience and return no later than Tuesday, July 31, 2018 – just prior to the release of the early ballots. This can be accomplished by forwarding the completed form via e-mail to the return address:
jjkp4life@outdrs.net (personal) or to Life@evactionalliance.org .

We welcome and encourage other pro-life organizations to do likewise within their respective states. Thank you for all you do to promote the pro-life cause!